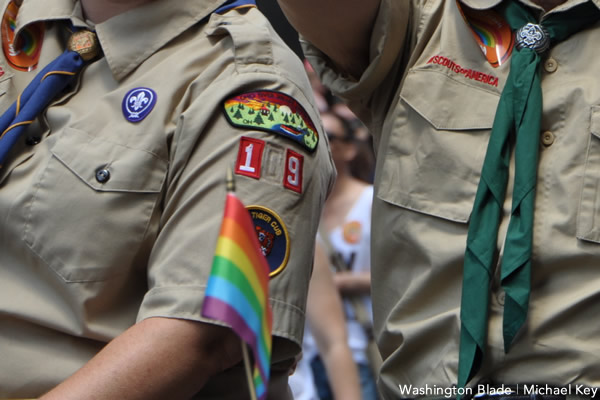 The Boy Scouts of America have an oath: "To keep [themselves] physically strong, mentally awake and morally straight." Emphasis on straight. More than 100 years after its founding, the BSA will convene this spring to reevaluate its current antigay policies. A meeting of the National Executive Board Wednesday delayed until May the decision to make its charter reflect the more equality-centric sentiment we have come to appreciate in the 21st century.
The BSA boasts more than 300 local council centers throughout the United States, 17 of which are in Pennsylvania. The Cradle of Liberty Council includes the Greater Philadelphia area, and its executive director, Tom Harrington, has refused to comment on how the Cradle would proceed should the BSA lift the gay ban for members and leaders.
The eligibility of LGBT individuals to participate in the BSA is not a new concept to the Pennsylvania court system. In 2008, the City of Philadelphia found the national BSA policy of rejecting gay members to be a violation of its own anti-discrimination laws. In response, it attempted to evict the Scouts from its city-owned property.
The case was filed with United States District Court for the Eastern District of Pennsylvania, and in 2010 went to trial before a jury in federal court. The jury ruled in favor of the BSA; asserting that attempting to force the organization, as a private group, to change its policy would infringe upon its right to free association. The path towards LGBT equality for Boy Scouts in Philadelphia has been rocky, at best.
As compelling as individuals' personal accounts of discrimination and injustice with the BSA have been, the organization probably would not have been likely to consider modifying its policy without considerable pressure from outside groups, primarily its funders. In the wake of its antigay controversy, large corporations such as UPS, Intel, Merck and United Way pulled all funding in response to the BSA's reluctance to amend its bylaws. This was spurred when LGBT activism groups, such as the Gay and Lesbian Alliance Against Defamation and Scouts for Equality, approached the companies with a plethora of petition signatures, and urged them to cease further funding for the sake of equality.
Scouts for Equality (www.scoutsforequality.com) was founded by Zach Wahls, an LGBT advocate and an Eagle Scout. The group is comprised of approximately 3,600 Eagle Scouts, more than 350 of whom have returned their Eagle pins in protest and renounced their titles in the organization.
However, despite many companies adamantly insisting on BSA policy reform, numerous churches have threatened to refrain from financially backing the BSA any longer if it amends its discriminatory policies. This perhaps presents a greater issue to the BSA, because well more than half of its donors are churches and religious organizations. In 2011, nearly 70 percent of all of its units were chartered by faith-based organizations.
It is rumored that one of the BSA's largest faith-based supporters, the Church of Jesus Christ of Latter-day Saints, has threatened to leave the realm of Scouting if the BSA begins to permit gay members and leaders within its ranks. It asserts that a more progressive BSA policy with regard to LGBT acceptance would not be compatible with Mormon ideology. Officials in the church have not issued any formal statements yet.
Despite overwhelming religious opposition and intolerance to LGBT equality within the BSA, the fiscal fallout with corporations such as UPS and Intel is providing just enough sting and publicity to prompt possible action.
The BSA lifting the ban on homosexual members or leaders would be the first of many necessary steps to promote and cement equality for potential LGBT participants. Lifting the ban would not ensure that all gay individuals can partake in the BSA, it would simply gives the local troops and councils the ability to decide whether or not allowing gay members would be "consistent with each organization's mission, principles, or religious beliefs."
If the National Executive Board deems its antigay policies too antiquated and empowers the individual councils to dictate their own rules and regulations pertaining to membership, then it will be chiefly up to local communities and groups to convince their respective troops to adopt or amend charters that reflect an ever-increasing call for justice and equality for the LGBT community.
Boy Scouts are "trustworthy, loyal, helpful, friendly, courteous, kind, obedient, cheerful, thrifty, brave, clean and reverent." It's time that they become egalitarian too.